Replica Medals
Honours, Decorations, Campaigns & Service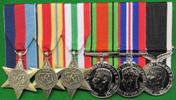 Medal Mounting War Medals and Replica Medals WWI, WWII, post-WWII, New Zealand & British Commonwealth
Medal mounting of war medals in New Zealand for WWI, WWII and post-WWII allies including British Commonwealth countries military medals for navy, army, air force war campaigns and defence force service

Other medal awards for mounting include New Zealand Operational Service Medal, New Zealand Honours such as Member of New Zealand Order of Merit, New Zealand Defence Service Medal, Pingat Jasa Malaysia medal and other campaigns.

As New Zealand's leading medal mounting business, our constant aim is ~ Quality Assured ~ ceremonial excellence for Navy, Army, Air Force campaigns and defence force service. All medals fitted with original ribbon, sourced from New Zealand Defence Force on your behalf as required.

Our fine-quality replica medals for purchase by you are also mounted for wear. All medals fitted with original ribbon supplied from our UK manufacturer, who supplies defence forces worldwide.

To read the definition of swing and formal court mount styles, click here.
All medals highly polished, and lacquered as is necessary for some medals.
New ribbon fitted
Mounted to military war medal specifications
Quality robust materials used for court mounting, no chance of your clothes being stained from backing material dye-run
Quality manufactured suspender bars, also known as brooch pins
Fast turn around!
Personal service by email and phone
General Advisory Notes
New Zealand Postal Service Delays
Please note we have no responsibility for mail delivery timings once packages or envelopes are handed to New Zealand Post, what happens in transit is beyond our control. We cannot apologise for unsatisfactory postal service, that is a matter for customers to address with New Zealand Post management.
Automated Email
An automated email is sent immediately to those who have purchased from our
Replica Medals
website via our Paypal account or, have submitted an order form from the
replica medals web page or, sent an email enquiring about replica medals
.
When replying to such email be sure to change the Subject wording, for example ... 'Replica Medals Purchase Wally Stumpwater'.... . Do not copy and paste the example shown. If the 'Subject' wording remains the same, another of the automated email will be received by you.
Replica Medals Sets Prepared for Wear
If you are wanting to purchase WWI & WWII replica medals as a set for wear, it is recommended you firstly view the
web page
where such are listed. There are multiple choices to select from, with only one purchase to make. If the set you need is not listed,
email us
with the details and an invoice will be sent to you. Click the link for the medals sets prepared for wear:
Normal Business Hours ~ Personal One-on-One Contact
The Company policy includes ensuring staff spend quality time with their families, therefore normal business hours at our premises for personal one-on-one contact are:

Monday to Friday ~ 8:30am to 5:00pm.

Personal contact outside the above business hours can be by arrangement, including weekends.
Online Business Hours
The Company website enables online transaction and communications 24 hours a day, 7 days a week. Automated email responses will occur, these will be followed up the next normal working day.
Latest Medal Issue ~ The New Zealand General Service Medal 2002 (Counter-Piracy)
A new medal for New Zealand Defence Force (NZDF) personnel who have served in counter-piracy operations is now being issued, The New Zealand General Service Medal 2002 (Counter-Piracy).
The New Zealand General Service Medal 2002 (Counter-Piracy) recognises members of the NZDF who have served for 30 days or more in counter-piracy operations in the Gulf of Aden, Western Indian Ocean, and off the eastern coasts of Somalia, Yemen and Oman, since 1 January 2009.
The form used to apply for records or medals, award eligibility, and applications by former NZDEF personnel and relatives can be viewed and downloaded at this link
NZDEF APPLICATION / DECLARATION FORM FOR MILITARY PERSONNEL RECORDS AND/OR MEDAL ENTITLEMENTS
.
Replica Medals Sets Prepared for Wear
If you are wanting to purchase WWI & WWII replica medals as a set for wear, it recommended you firstly view the web page where such are listed. There are multiple choices to select from and only one purchase to make. If the set you need is not listed, email us with the details and an invoice will be sent to you. Click the link for the medals sets prepared for wear:
WWII SERVICE ANNOUNCEMENT: New Awards - Arctic Star, Bomber Command Clasp
In February 2013, Her Majesty Queen Elizabeth II approved the Arctic Star, and the Bomber Command Clasp as two new awards for Second World War service.
Many New Zealanders who served on the Arctic convoys, or north of the Arctic Circle on other war duties, or who flew with Bomber Command during the Second World War - or their families - may be entitled to apply for these awards. Further information is at the New Zealand Defence Force medals site:
.
Further information for United Kingdom WWII personnel is at the
Our Business Background
Firstly, the primary background to our business is that the proprietor of nzmilitarymedals.com has many years service in the New Zealand Army regular and territorial forces. His service includes Malaysia, Borneo and South Vietnam with an infantry rifle company. Qualified as a first class All Arms Instructor he knows and understands ceremonial protocol and military medal awards.

Secondly, our professional medals processing techicians perform all medals mounting services to an exacting standard with quality products and materials obtained from reputable sources worldwide.

CAUTION: Some people are undertaking medals mounting with no previous experience because of the New Zealand Defence Service Medal requiring remount. They do not have the professional equipment and materials required for quality finish. Our work is quality assured.
Medals Mounting Examples
Click images below to enlarge.
| | |
| --- | --- |
| Typical WWI Mounted Medals. | Typical mounting post-WWII Medals. |
Medals before and after mounting gallery
The medals shown below indicates the quality of work by our Medals Processing Technicians in restoring your medal sets to a pristine condition after we have received them.Click images to enlarge.
As received from customer.
After mounting by our
Medals Processing Technician.
More than 30 years experience in mounting war campaign and award medals, plus 10 years army service that includes Malaysia, Borneo, and South Vietnam gives us the cutting edge to ceremonial excellence for mounting medals in court and swing style.
FREE!


Personal name label:

We will print a label FREE, with the individual service number, last name, initials, Corp and/or branch of military service. The branches are Navy, Army and Air Force. The label will be fixed to the back of each set of court mounted medals, or sent separately.
For example, NZ12345 STUMPWATER A. B. RNZN
Be sure to send personal service details with the medals.
Costings
Back to Index
Medals Mounting Costings
See the simple price schedule below to calculate the price per number of medals to be mounted. All are fitted with new ribbon, and polished for a lifetime of regular use at ANZAC Day parades, formal occasions, civic functions, funerals and suchlike.

Full Size Original Medals Mounting GST Inclusive Price Schedule, as from 1 July 2020
No.
Medals
Pin
SubTotal
Pack/Courier
Total
1.
25.00
5.00
30.00
9.00
39.00



NEW - Fastening Medals to Garment



All medals sets mounted have the means for attachment to clothing that eliminates inserting a brooch pin through a garment. The method also eliminates suspending medals from a pocket holder, which can damage stitching on top pockets.

2.
50.00
5.00
55.00
9.00
64.00
3.
75.00
5.00
80.00
9.00
89.00
4.
100.00
5.00
105.00
9.00
114.00
5.
115.00
5.00
120.00
9.00
129.00
6.
130.00
5.00
135.00
9.00
144.00
7.
145.00
5.00
150.00
9.00
159.00
8.
160.00
5.00
165.00
9.00
174.00
9.
175.00
5.00
180.00
9.00
189.00
10.
200.00
5.00
205.00
9.00
214.00
Miniature Medals Costs
The GST inclusive cost for mounting miniatures is $15.00 per medal, the deluxe brooch pin pair is usually about $5.00, and signature-required courier $9.00. Courier charge does not apply where miniature medals are mounted at the same time as your full medals set.
medals@nzmilitarymedals.com
Medals Ribbon Riband Bars
The full range of medals ribbon riband bars available for you, all military and other services such as Customs, Fire Brigade, Police, Prison Service, Order of St John, and suchlike. See our modest pricing for:
Fitted, with butterfly clips for garment attachment
Fitted, with magnets for garment attachment
Click HERE
See the medal ribbon riband bar types available, starting from single-space upward. Click on any image for the listings and purchase web page.
Payment options include internet Bank-to-Bank by means of the button shown here,
or by credit card.
Accessories for Sale
Click on a picture for the full accessories page.
Small medals case.
For miniature medal sets.
Medium medals case.
For up to 4 full medals.
Large medals case.
For 5 or more medals.
Medals pocket holder.
Holds medals in jacket top pocket.
A useful tip for the New Zealand Defence Service Medal box:
Convert the box into a display case for upto 4 full mounted medals and upto 8 miniature medals. Remove the box inner pad by pulling on the white tab attached to it, thereby creating a display case as shown in the images below. Click on an image to expand.

NZDSM Box

Full Medals Display Case

Miniature Medals Display Case
Replica Medals for Sale
The full range of replica medals are available from us, from World War I through to the East Timor medals. See the replica medals page via the following links.....
Available as a full or miniature medal, the replicas are of the highest quality. Email us now with your requirements and a quote.
medals@nzmilitarymedals.com
Sending your medals to us
Send your medals to us by courier standard post, courier is the safest means. Include your name and mailing address, and email address. Include the medal recipient's service details for the label placed on the back of court mounted medals and medals display cases.
nzmilitarymedals.com
31 English Street
St Andrews
Hamilton 3200
Phone [07] 849 9982

email: medals@nzmilitarymedals.com
An invoice will be emailed to you that will have our bank details enabling online payment. If preferred and requested, the means for credit card payment will be emailed to you.
Military Medals Mounting Standards & Protocol
Be advised that military medals mounting standards and protocol are maintained in respect to the medals recipient. Medals are mounted as if the recipient was wearing them on parade.
Military honours, campaign and service medals are not ornaments, or presented in a manner to look nice and pretty, they are respresentative of service.
Our Hamilton Location
Our customer feedback
We have used this business and we highly recommend them. Our medals are amazing. Thanks guys.

J W, Cambridge, New Zealand. 3 July 2020


Thank you so much for the amazing job on the medals, I love them.

S B, Hamilton, New Zealand. 16 June 2020


Thanks Victor. Ribbons arrived this morning. Please thank [staff member] for the excellent service and workmanship and for the Speedy delivery.


S W, Porirua 10 June 2020


I'd just like to let you know that the replica medals arrived last Friday and we are delighted with them. They will be put on display with other Judson memorabilia we have in our collections.


Albertland Museum and Heritage Centre, Wellsford. 21 Jul 2011.


Mounted medals arrived yesterday. I am impressed with both the standard of your work and your efficiency in dealing with this matter from the other end of the country.


J C, Mosgiel. 8 Dec 2010.


Please accept the enclosed book as a token of gratitude for the professional job on my medals.


J R, Thames


Good evening Team,
Just want to let you know I have received both mine and my great grandpa's medals. Also want to thank you on what an amazing job you guys have done, the quick turn around, friendly comms, the work, the lot.

I couldn't be more happier and thankful for your service. Much appreciated. Have an awesome long weekend and a happy Easter!


S K, Christchurch. 16 April 2014.


I'm calling tonight to let you know my medals arrived today. I am absolutely thrilled with the result, an excellent job. Thank you ever so much.


K C, Masterton


In September 2011 I ordered some replica miniature medals form you. They are beautiful and got them put in a boxed frame and they look amazing thank-you! A family member has seen them and would like a copy for themselves. I have copied the correspondence from the order I placed with you. Could you please give me a quote for the same product I received.


Emily. 12 February 2013.


They [a mounted replica medals set and a display case] arrived this morning. They look fantastic. I actually cried when I opened the case. It was an emotional moment. I am so pleased with them. Many thanks


Gill. 16 April 2014.
Apply for New Zealand Military Medals
Back to Index
If you are entitled to New Zealand military medals, download the form to apply at this link
NZDEF APPLICATION / DECLARATION FORM FOR MILITARY PERSONNEL RECORDS AND/OR MEDAL ENTITLEMENTS
.
Enquiry by Relatives for New Zealand Service Records and Military Medals Awarded
Next-of-kin can make enquiry about records or medals awarded, award eligibility, and applications by former NZDEF personnel can be viewed and downloaded at this link
NZDEF APPLICATION / DECLARATION FORM FOR MILITARY PERSONNEL RECORDS AND/OR MEDAL ENTITLEMENTS
.
The physical mailing address is:
Personnel Archives & Medals
NZDEF
Private Bag 905
UPPER HUTT 5104 Phone: (04) 527 5280
or, email by clicking on this link
nzdf.pam@nzdf.mil.nz
Provide the following information that is identifiable, including that for next of kin if possible, to assist military Archives staff locate files:
- Service Number
- Surname
- Full Given Names and any other names you are known by
- Date and Place of Birth
- Rank and Service (Army / Navy/ Airforce)
- Regiment / Battalion/ Unit / Ship
- Period of Service
If applicable; Next of Kin, Address and Occupation at time of Enlistment
Include your current address and contact phone number in all communications.
Records for World War One Service Personnel
All records for New Zealander's who served during WWI are held at Archives New Zealand, PO Box 12 050, Wellington.
New Zealand Defence Service Medal 2010
The New Zealand Defence Force medals office is accepting applications for the medal as descibed on the web page, seen by
clicking HERE.
. Applications can be submitted via the website link by
clicking HERE.
Click on image to view.
One or more clasps may be awarded with the medal. The number of clasps awarded to an individual will be determined by the type(s) of military service undertaken by the individual. The four clasps are: REGULAR (image shown above), TERRITORIAL, C.M.T. and NATIONAL SERVICE.
Information about the New Zealand Defence Service Medal can be viewed at the following New Zealand Defence Force
web page, seen by clicking here
Military Campaigns involving New Zealand
Military campaigns New Zealanders have been involved in include the Boer War, World War I and World War II, in Japan as occupation forces following the Second World War, and the Korea War in the early 1950's. That was followed by the Malayan Emergency from the mid-1950's to early 1960's. In the mid 1960's New Zealanders were involved with Malaysia in its confrontation with Indonesia by active service on the Malay Peninsula mainland and in Borneo.

Commitment to the war in South Vietnam was undertaken from late 1960's until the early 1970's. Other global issues involving New Zealand military forces have included Rhodesia, mine clearing in Cambodia, the Gulf War, peace keeping in East Timor and a combat force in Afghanistan.

Overall, the major countries in which New Zealand Military forces have been engaged in outside the borders of their own country include France, Germany, Italy, North Africa, Burma, Southwest Pacific region, Korea, Malaya, Vietnam, Cambodia, Rhodesia, Middle East, East Timor, and Afghanistan.
New Zealand Military Campaign Medal Awards - In a Nutshell
Back to Index
The system of medallic issue is based on Honours, Decorations, and Awards. The order in which Orders, Decorations and Medals are worn in New Zealand is prescribed Cabinet of the New Zealand Government. However, only medals approved by the New Zealand Sovereign, Her Majesty Queen Elizabeth II, may be worn by serving military personnel.

Military forces active and non-active medallic issue is primarily for Gallantry, Bravery, Distinguished Conduct, and Campaigns. The following is a summary of the Campaign medals in a nutshell, consisting of War, operational, Peace keeping, and Special Service. Worn in date of order, awards include:
Campaign Stars and Medals awarded for service in the Second World War.
New Zealand Operational Service Medal, awarded for operational service after 3 September 1945
New Zealand Service Medal 1946-1949
Korea Medal
United Nations Korea War Medal
Naval General Service Medal [1915-1962]
General Service Medal [Army and RAF] [1918-1962]
General Service Medal [1962]
Vietnam Medal [1964]
Republic of South Vietnam Campaign Medal [1960-]
New Zealand General Service Meda 1992 [Warlike]
New Zealand General Service Meda 1992 [Non-warlike]
East Timor Medal
New Zealand General Service Medal [2002]
New Zealand Special Service Medal [2002]
New Zealand Defence Service Medal, awarded for attested military service since 3 September 1945
United Nations Medals and United Nations Special Service Medals
North Atlantic Treaty Organisation Medals
South Korea War Service Medal
Order of Wear
Check the order in which honours and medals are worn by clicking here
New Zealand Defence Force medals
.
Wearing of Decorations and Medals by Next of Kin or Family Members
The insignia of any order, decoration or medal, including miniatures, lapel badges and ribbons, may only be worn by the person to whom they were awarded.

There is a convention or custom that is widely understood that the next of kin and other relatives may wear, on the right side only, on ANZAC and similar days of remembrance, the service medals of deceased military personnel.

The convention is a matter of personal discretion, is limited to days of remembrance and applies only to service medals and decorations mounted on a medal bar (full-size or miniature) and not neck badges, sashes and badges, or breast stars.
Medal Mounting Facts
Medals Order of Wear
When ribbons alone are worn, up to four ribbons can be mounted in one row on a ribbon bar before a second row centered above the first is started. The senior medal ribbon is displayed on the top row closest to the lapel and the junior medal on the bottom row furtherest from the lapel.

We can advise on mounting and correct Order of Wear.

Court Mounting Style

The Court style presents your medals with ceremonial excellence! The style evolved from within the Royal Courts to eliminate the noise of medals clinking together as a wearer went about the court business. Hence, this style is the accepted standard for medals mounting that includes ensuring the medal itself is fastened. The swing style can contribute early damage to the face of medals and ribbon. Back to top of page.

Medals Etiquette

It is dictated by etiquette that medals be worn in court-mounted style when in Royal and Vice-Regal presence, and on full ceremonial occasions.

Medals Width
Often there is doubt about the quality of a job when the owner sees medals mounted and overlapped. The simple answer is that a single group of medals should not exceed a width of 163mm.

Thus, the normal ribbon is 32mm wide. An average group of five WWII medals mounted side-by-side, with tolerance for butting of ribbon edges, can equal 163mm. For six or more medals the group is overlapped to equal 160mm, on average. There are exceptions in order to maintain balance that include Honours, Decorations, and Awards for campaigns. For example, the ribbon width for some Honours, Korean and Vietnam war medals is 35mm to 38mm wide.

Medals Length
The length of a mounted military medal should not be less than 90mm, nor longer than 95mm. Requests for specifications outside these parameters will be met, however, please do not be offended if we point the preceding specifications in the first instance.

Medals Obverse/Reverse Sides
There are two sides to a medal, the obverse side and reverse. The obverse side is normally referred to as the 'face' side and consists of depictions of a monarch or coat of arms. The reverse side can include depictions of a variety of symbolics.

The correct order of medals mounting is the obverse side outermost, or to the front.