Replica Medals
Military Honours, Decorations, Campaigns & Service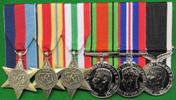 Your military medals company for replica medals and accessories has replica war medals online and provides mounting of military war campaign and service medals for navy, army, air force including WWI, WWII and Korea and later camapigns.
Replica medals available for next-of-kin worn on ANZAC Day parades and Armistice Day. Also, see our Remembrance Poppy lapel badge with brass bugle as symbol of the Last Post for the fallen.
---
Premounted medals AND option for combination with medals display/travel cases.
Click Here to view
---
General Advisory Notes ~ [scroll down for Replica Medals section]
Automated Email
An automated email is sent immediately to those who have purchased from our
Replica Medals
website via our Paypal account or, have submitted an order form from the
replica medals web page or, sent an email enquiring about replica medals
.
When replying to such email be sure to change the Subject wording, for example ... 'Replica Medals Purchase Wally Stumpwater'.... . Do not copy and paste the example shown. If the 'Subject' wording remains the same, another of the automated email will be received by you.
Replica Medals Sets Prepared for Wear
If you are wanting to purchase WWI & WWII replica medals as a set for wear, it is recommended you firstly view the
web page
where such are listed. There are multiple choices to select from, with only one purchase to make. If the set you need is not listed,
email us
with the details and an invoice will be sent to you. Click the link for the medals sets prepared for wear:
Medals sets prepared for wear, click HERE
Military Medals Mounting Standards & Protocol
Be advised that military medals mounting standards and protocol are maintained in respect to the medals recipient. Medals are mounted as if the recipient was wearing them on parade.
Military honours, campaign and service medals are not ornaments, or presented in a manner to look nice and pretty, they are representative of service.
Normal Business Hours ~ Personal One-on-One Contact
The Company policy includes ensuring staff spend quality time with their families, therefore normal business hours at our premises for personal one-on-one contact are:
Monday to Friday ~ 8:30am to 5:00pm.
Personal contact outside the above business hours can be by arrangement, including weekends.
Online Business Hours
The Company website enables online transaction and communications 24 hours a day, 7 days a week. Automated email responses will occur, these will be followed up the next normal working day.
Buy Replica War Medals Online - Mounting if Requested - Quality Guaranteed
Buy replica war medals online below for navy, army, air force campaigns including WWI, WWII and Korea. Other medal awards include New Zealand Defence Service Medal and Venerable Order of St John members and officers insignia. Replica medals can be court or swing mounted for wear or framing with badges such as Royal New Zealand Artillery hat badge and other insignia. Quality is guaranted.
The use of medal copies to replicate awards is common practice by recipients and next-of-kin, our quality medals are guaranteed. Replica medals solve the problem of exposing original medals to theft or inadvertant loss, or giving every member of the family military service memorabilia and such like. Many medals recipients have their originals framed and a replica set mounted to wear on appropriate occasions such as ANZAC Day and Armistice Day parades. Medals may also be worn by next-of-kin on ANZAC Day parades and Armistice Day.
The Remembrance Poppy Lapel Badge is your personnel token of 'Ne'er We Forget', as kin of deceased military personnel. As an insignia of Remembrance for ANZAC Day and ARMISTICE Day and World War One commemorations, WWI, the 40mm x 40mm design includes a golden bugle, symbolic of Last Post for the fallen.
The mounting of your replica, or original, medals set does incur additional cost for labour and materials. With mounting we offer:
FREE - label with recipient's service details placed on back of courtmounted medals.
STANDARD - means to attach medals set for wear on a garment without use of a large bar pin.
Additional Information
Accessories:
Where an accessory, such as a specific bar/clasp is required, please enter this into the Paypal message block before confirming an order.
Replica Medals Mounting for Wear:
Given that replica medals are often required to be mounted for wear and you would like mounting done, the options can be selected at the
bottom of this page
.
Customised Mounted Medals Sets Ready to Wear
: Check out the customised mounted medals sets and medals display cases, they may meet your requirements. The mounted sets can be purchased directly from the following web page:
For CUSTOMISED MOUNTED MEDALS SETS & display case option click HERE
Miniature Medals:
The miniature medals available are at the following link. All medals are named but images have yet to added, cross-reference to this page to view images.
For MINIATURE MEDALS click HERE
Shipping:
The majority of our despatch is by tracked courier, it is an insurance for both parties. Tracked courier despatch is $9.00 to any suburban location in New Zealand. Rural delivery has variable charges imposed by NZ Post.
There is a minimum rate of $5.00 for mailing of tracked packages sent by standard mail anywhere in New Zealand.
With offshore airmail despatch, we reserve the right to recover actual cost depending on destination. Unfortunately our Paypal setup does not enable this variable to be transacted during checkout for online purchases.
Medals Mounting Select & Pay
Medals mounting costs are GST inclusive for labour, materials and medals brooch bar. The mounting selection and payment option is at the end of this page.
Replica Medals Mounting Costs ~ Effective 1 May 2019 [GST inclusive]
The mounting of replica full medals includes labour costs & materials, consumables & electricity, administration & GST. The work involved for mounting replica medals is not as time consuming as with original medals, but ultimately rewarding for customers with medals as worn by a recipient on a military parade.
| Medals Mount | 01 | 02 | 03 | 04 | 05 | 06 | 07 | 08 | 09 | 10 |
| --- | --- | --- | --- | --- | --- | --- | --- | --- | --- | --- |
| Cost NZD$ | 25.00 | 50.00 | 75.00 | 100.00 | 115.00 | 130.00 | 145.00 | 160.00 | 175.00 | 200.00 |
| Garment Attachments NZD$ | 5.50 | 5.50 | 5.50 | 5.50 | 5.50 | 5.50 | 5.50 | 5.50 | 5.50 | 5.50 |
| Total NZD$ | 30.50 | 55.50 | 80.50 | 105.50 | 120.50 | 135.50 | 150.50 | 165.50 | 180.50 | 205.50 |
---
Online Buy Options


NOTE to New Zealand bank account holders. You can make payment transactions with internet banking, our bank details are on the Sales Invoice that will be emailed to you with the itemised costs. Click Internet Banking button below for the Order Form page.


Continue scrolling down this page or, go to the listings below by clicking the Credit Cardbutton below. Select the required items to add to your shopping cart, then click on the submit button. A copy of the sales invoice will be emailed to you from our Paypal site.


You can contact us via the email message form below for quotes, or to enquire about purchases you would like to make.

Content Index
---
GST inclusive prices:
Honours and Decorations
NZM39
NZM54
NZM50
NZM51
NZM52
NZM35
Victoria Cross
[VC]
George Cross
[GC]
Commander British Empire
[CBE]
Officer of British Empire
[OBE]
Member of British Empire
[MBE]
Distinguished Conduct Medal
[DCM]
NZD$44.00
NZD$36.50
NZD$172.00
NZD$38.50
NZD$38.50
NZD$38.50
NZM58.01
NZM58.02
NZM32
NZM34
NZM69
NZM04
Distinguished Service Order
[DSO] GVI reign
Distinguished Service Order
[DSO] QEII reign
Distinguished Flying Cross
[DFC]
Military Cross
[MC]

Air Force Cross
[AFC]
Military Medal
[MM]
NZD$60.50
NZD$60.50
NZD$38.50
NZD$38.50
NZD$38.50
NZD$37.80
NZM53.01
NZM53.02
NZM75
NZM77
NZM55
NZM81
British Empire Medal
GVI [BEM]
British Empire Medal
QEII [BEM]
Distinguished Service Medal
[DSM]
Distinguished Flying Medal
[DFM]
George Medal
[GM]
Distinguished
Service Cross
NZD$38.50
NZD38.50
NZD$36.50
NZD$36.50
NZD$36.50
NZD$38.50
New Zealand Honours
NZH01
NZH02
Officer
NZ Order of Merit
Member
NZ Order of Merit
NZD$58.50
NZD$58.50
New Zealand 1800's War Medals
NZM76.01
NZM76.02
NZM82
New Zealand War Medal
1861-66
[Chrome plated]
New Zealand War Medal
1861-66
[Sterling silver]
New Zealand Cross
[Sterling silver]
NZD$49.50
NZD$106.50
NZD$106.50
Boer War Medals
NZM90
NZM91
NZM90C
Boer War 1899-1902 Clasps
Campaign & Battle clasps awarded for medals
To view and/or order, click on a medal name:

Queens South Africa Medal
Kings South Africa Medal
NZD$38.50
NZD$38.50
World War I Medals
| | | | | | |
| --- | --- | --- | --- | --- | --- |
| NZM01.01 | NZM01.02 | NZM02 | NZM03 | NZM74 | |
| | | | | | |
| 1914 Star | 1914-15 Star | British War Medal 1914-18 | Victory Medal 1914-19 | Mercantile Marine Medal | |
| NZD$38.50 | NZD$38.50 | NZD$38.50 | NZD$38.50 | NZD$38.50 | |
| | | | | | |
Full Size WWI Medals Sets -

Ready for Wear

Miniature WWI Medals Sets -

Ready for Wear
---
World War II Campaign Medals and Awards
NZM05
NZM06
NZM07
NZM08
NZM09
NZM10
1939-45 Star
Africa Star
Italy Star
Atlantic Star
France Germany Star
Aircrew Europe Star
NZD$36.50
NZD$36.50
NZD$36.50
NZD$36.50
NZD$36.50
NZD$36.50
NZM11
NZM12
NZM13
NZM14
NZM15
NZM93
Pacific Star
Burma Star
Defence Medal
War Medal 1939-45
NZ 1939-45 War Service Medal
Arctic Star
NZD$36.50
NZD$36.50
NZD$36.50
NZD$36.50
NZD$36.50
NZD$36.50
NZM57
SAF01
ICM01
WWII Greece Medal
Africa Service Medal
1939-45
India Service Medal
1939-45
NZD$38.50
NZD$36.50
NZD$36.50
WWII Medals Clasps
NZM05CF01
NZM05CF02
NZM09CF
NZM06CF01
NZM06CF02

BATTLE OF BRITAIN

Clasp for 1939-45 Star

BOMBER COMMAND

Clasp for 1939-45 Star

ATLANTIC



Clasp for:

Air Crew Europe Star
France and Germany Star


8th ARMY

Clasp for Africa Star

NORTH AFRICA 1942-43



Clasp for:

Africa Star
Atlantic Star

$13.50
$13.50
$13.50
$13.50
$13.50
NZM08CF
NZM09CF
NZM11CF
NZM12CF

AIR CREW EUROPE

Clasp for Atlantic Star

FRANCE AND GERMANY



Clasp for:

Air Crew Europe Star
Atlantic Star


BURMA

Clasp for Pacific Star

PACIFIC

Clasp for Burma Star
$13.50
$13.50
$13.50
$13.50
---
Full Size WWII Medals Sets -

Ready for Wear

Miniature WWII Medals Sets -

Ready for Wear
Post-WWII New Zealand Military Campaign and Service Awards
NZM15
NZM16
NZM17
NZM18
NZM19
NZM20
NZ 1939-45 War Service Medal

NZ Operational Service Medal

NZ 1946-49 Service Medal

Korea Medal

UN Korea Medal

General Service Medal
1918-1960
clasp MALAYA
NZD$36.50
NZD$36.50
NZD$36.50
NZD$36.50
NZD$36.50
NZD$50.10
NZM21.01
NZM21.02
NZM21.03
NZM22
NZM23
NZM24
General Service Medal
[1962-] clasp
BORNEO
General Service Medal
[1962-] clasp
MALAY PENINSULA
General Service Medal
[1962-] clasp
BORNEO
MALAY PENINSULA
Vietnam Medal
Republic of South Vietnam Medal
clasped 1960~
East Timor Medal
NZD$50.10
NZD$50.10
NZD$63.60
NZD$36.50
NZD$42.00
NZD$36.50
NZM25
NZM26
NZM27
NZM28
NZM30
NZM33
New Zealand
Special Service Medal
Naval GSM 1915-62 clasp
MALAYA
Pingat Jasa Malaysia
South Korea Service Medal
New Zealand Memorial Cross
INTERFET Medal
NZD$36.50
$NZD$46.40
NZD$36.50
NZD$38.40
NZD$36.50
NZD$46.40
NZM36
NZM36.01
NZM40
NZM41.01
NZM41.02
NZM41.03
NZGSM 1992
[Non-Warlike] Medal
clasp KOREA 1954-57
NZGSM 1992
[Non-Warlike] Medal
Nominate clasp
NZGSM 2002 Medal
Campaign ribbon supplied
NZGSM 1992
[Warlike] Medal clasp
MALAYA 1960-64
NZGSM 1992
[Warlike] Medal clasped
MALAYA 1960-64
VIETNAM
NZGSM 1992
[Warlike] Medal clasp
VIETNAM
NZD$53.00
NZD$53.00
NZD$36.50
NZD$53.00
NZD$66.60
NZD$53.00
NZM43
NZM56
NZM67
NZM83
NZM94
NZM95
Multi-national Forces
and Observers Medal
Rhodesia Medal
Timor Leste Solidariedade Medal
Zimbabwe Independance Medal 1980
New Zealand General Service
[Counter Piracy] Medal
New Zealand 1990
Commemoration Medal
NZD$36.50
NZD$36.50
NZD$36.50
NZD$41.00
NZD$36.50
NZD$90.50
NZM96
NZM97
Rhodesia General
Service Medal
New Zealand
General Service Medal 2002
(Timor Leste)
NZD$38.50
NZD$38.50

---

Our replica New Zealand Defence Service Medals and all clasps are mould-cast thereby giving a quality product. The choices below relate to medal clasps configuration, purchase is inclusive one clasp and 15cm of ribbon.

An additional cost is incurred for 2 or more clasps. Click HERE to see the miniature medals price schedule.

Click HERE. To email us for miniature medal quotes.

---

NZM80.01
NZM80.02
NZM80.03
NZM80.04
NZM80.05
NZM80.06
New Zealand Defence Service Medal
New Zealand Defence Service Medal
New Zealand Defence Service Medal
New Zealand Defence Service Medal
New Zealand Defence Service Medal
New Zealand Defence Service Medal
Clasp: REGULAR
Clasp: C.M.T.
Clasp: NATIONAL SERVICE
Clasp:TERRITORIAL
Clasps:
C.M.T. | REGULAR
Clasps:
C.M.T. | REGULAR | TERRITORAL
NZD$42.00
NZD$42.00
NZD$42.00
NZD$42.00
NZD$55.50
NZD$67.90
NZM80.07
NZM80.08
NZM80.09
NZM80.10
NZM80C
NZM80CM
NZDSM Full medal clasp:

NZDSM Miniature medal clasp:

New Zealand Defence Service Medal
Clasps:
NATIONAL SERVICE | REGULAR
New Zealand Defence Service Medal
Clasps:
NATIONAL SERVICE | REGULAR | TERRITORIAL
New Zealand Defence Service Medal
Clasps:
TERRITORIAL | REGULAR
New Zealand Defence Service Medal
Clasps:
REGULAR | TERRITORIAL
Nominate clasp.
Nominate clasp.
NZD$55.50
NZD$67.90
NZD$55.50
NZD$55.50
NZD$13.50
NZD$10.50<
NATO and United Nations Campaign Medals
NZM42
NAT01.01
NAT01.02
United Nations Medal
[Various ribbons]
Nominate ribbon
View ribbons chart HERE
NATO Medal
non-clasped ~ Various ribbon
View NATO ribbons chart HERE
NATO Medal
Nominate clasp ~ Various ribbon
View NATO ribbons chart HERE
NZD$36.50
NZD$36.50
NZD$46.40
Military Long Service and Efficiency Awards
NZM37
NZM38GVI
NZM38ERII
NZM45
NZM46
NZM47
NZ Army LSGC Medal
NZ Efficiency Decoration GVI
NZ Efficiency Decoration ERII
British Regular Army LSGC Medal
NZ Efficiency Medal
RNZN LSGC Medal
NZD$36.50
NZD$49.20
NZD$49.20
NZD$36.50
NZD$36.50
NZD$36.50
NZM48
NZM49
NZM59
NZM60
NZM66
NZM79
Colonial Aux Forces Medal
Colonial Auxiliary Forces Decoration
New Zealand
Meritorious Service Medal
[Sterling silver]
NZ Armed Forces Award
RNZAF Long Service
Good Conduct Medal
Air Efficiency Award
NZD$36.50
NZD$48.00
NZD$112.00
NZD$36.50
NZD$36.50
NZD$36.50
NZM72
NZM78
NZM84
NZM85
NZM89
New Zealand Long and Efficient Service Medal
[Sterling silver]
NZ Territorial 12-year Service Medal
[Sterling silver]
Naval Volunteer Reserve Decoration
Naval Volunteer Reserve Long Service Good Conduct Award
New Zealand Cadet Forces LSGC Award
NZD$112.00
NZD$110.00
NZD$52.00
NZD$36.50
NZD$36.50
Unit Citations/Commendations
UCC01
UCC02
UCC02M
UCC04
UCC05
US Presidential Unit Citation
ARMY
US Meritorious Unit Commendation
ARMY
US Meritorious Unit Commendation
ARMY ~ Miniature
South Vietnam Presidential
Unit Citation with Palm
Canterbury Earthquake Citation
NZD$52.60
NZD$52.60
TBA
NZD23.20
NZD$21.50
Australian Military Campaign and Service Awards
AUM01
AUM02
AUM03
AUM04
AUM05M
AUM06
Australian Distinguished Service Medal
Australian 1939-45 Service Medal
Australian 1945-75 Active Service Medal
Australian 1945-75 Service Medal
Australian Service Medal
Australian Defence Medal
NZD$36.50
NZD$36.50
NZD$36.50
NZD$36.50
NZD$36.50
NZD$36.50
AUM07
AUM08
AUM09
AUM10
AUM11
AUM12
Australian Iraq Campaign Medal
Australian Defence Force Service Medal
Australian Defence Force Long Service Medal
Australian Active Service Medal
1975 onwards ~ nominate clasp
Afghanistan Medal
Australian General Service Medal KOREA
NZD$36.50
NZD$36.50
NZD$36.50
NZD$51.50
NZD$36.50
NZD$44.80
AUM13
National Medal
NZD$36.50
UK Defence Force Campaign and Awards
UKD01
UKD01C
UKD02
UKD03
UKD04
UKD05
British Operational Service Medal
British Operational Service Medal clasped Afghanistan
British Regular Army LSGC Medal
Iraq Medal
19 Mar to 28 Apr 2003 clasp
UK Accumulated Campaign Service Medal
UK Territorial Efficiency Medal
NZD$38.50
NZD$52.00
NZD$36.50
NZD$50.00
NZD$36.50
NZD$38.50
Venerable Order of St John Honours and Awards
| | | | | | |
| --- | --- | --- | --- | --- | --- |
| STJ01 | STJ02 | STJ03 | STJB01 | STJB02 | |
| | | | | | |
| Officer Order of St John | Member Order of St John | St John Service Medal | Service Bar - Gilt | Service Bar - Chrome | |
| NZD$60.50 | NZD$50.10 | NZD$38.50 | NZD$32.50 | NZD$13.50 | |
| | | | | | |
British Coronation and Jubilee Medals
NZM61.01
NZM61.02
NZM62.01
NZM62.02
NZM62.03
NZM62.04
GVI 1935 Silver Jubilee Medal
GVI Coronation Medal 1937
QEII Coronation Medal
QEII Silver Jubilee Medal 1977
QEII Golden Jubilee Medal
QEII Diamond Jubilee Medal
NZD$36.50
NZD$36.50
NZD$36.50
NZD$36.50
NZD$38.50
NZD$38.50
Foreign Medals
NZM29
NZM70.01
NZM70.02
USM61
NZM87
Vietnam Cross of Gallantry

French Croix De Guerre

Belgium Croix De Guerre

US Antarctica Service Medal
Iraq Reconstruction
Services Medal
NZD$49.70
NZD$38.50
NZD$38.50
NZD$56.20
NZD$39.50
Badges, Emblems, Insignias and Plaques
NZB03
Remembrance Poppy Lapel Badge
Ne'er We Forget
A Remembrance Poppy lapel badge specially designed for wear by kin of deceased armed forces personnel as token of 'Ne'er We Forget'. The perfect insignia for ANZAC Day and ARMISTICE Day. The 40mm x 40mm design includes a golden bugle, symbolic of Last Post for the fallen. A butterfly clip holds the Badge on a lapel and a spur pin on the back minimizes the badge revolving loosely.
The Remembrance Poppy comes with a specially molded velvet presentation case where it can remain when not in use. Being the designer, the design is copyright protected and not available elsewhere.
NZD$21.50
NZB01.01
NZB01.02
NZB02
NZM30
NZM65
NZM65M


Mentioned in Despatches WWI
Mentioned in Despatches WWII
Royal Commendation
for Valuable Services
New Zealand Memorial Cross

WWI King's Memorial Plaque
WWI Miniature King's Memorial Plaque
NZD$15.50
NZD$15.50
NZD$18.50
NZD$36.50
NZD$56.20
NZD$25.00
NZB10
NZB11
NZM64
NZM64LB
NZB06
NZB12
Infantry Combat Badge
Royal N.Z. Artillery
Hat Badge, anodised with butterfly clips
Gallipoli ANZAC
Commemorative Medallion
Gallipoli ANZAC Medallion
Lapel Badge
1 RNZIR 'Red Diamond' Lapel Pin
NZ Armed Forces Badge
Anodised, butterfly clips
NZD$15.00
NZD$18.00
NZD$28.60
NZD$15.00
NZD$11.00
NZD$21.50
NZB14
NZB15
NZB16
WWI Wound Stripe
WWI Wounded in Action
Services Rendered Badge
NZ Army Motif
Lapel Pin
NZD$11.50
NZD$21.95
NZD$13.50
Commemorative Medals
COM01
COM02
COM03
COM04
COM05
COM06
Dunkirk Medal
Tobruk 1941 Seige Medal
RAF Bomber Command
Commemorative Medal
NZ Wgtn Army Association
NZ Army 150th Year Commemoration
International Volunteer of the Year Medal
Malta 50th Commemoration Medal
NZD$53.40
NZD$41.50
NZD$59.50
NZD$38.50
NZD$38.50
NZd$36.50
NZMPH01 Medals Pocket Holder


NZD$15.00
Medals Mounting Payment Option
For mounting of replica medals for wear, on ANZAC DAY for example, include payment by selecting the Add to Cart button for the number of medals purchased.
MM01F
1 medal

NZD$25.00
MM02F
2 medals

NZD$55.00
MM03F
3 medals

NZD$80.00
MM04
4 medals

NZD$105.00
MM05F
5 medals

NZD$126.50
MM06F
6 medals

NZD$141.50
MM07F
7 medals

NZD$156.50
MM08F
8 medals

NZD$171.50
MM09F
9 medals

NZD$186.50
MM10F
10 medals

NZD$211.50